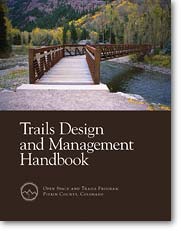 Paperback: 228 pages, over 324 line drawings, B&W, 8.5x11 inches, perfect bound

Order info

Design description and specifications for hard-surface, multiple-use paths and crushed stone trails

This publication is full of detailed yet widely applicable specifications for multiple use concrete/asphalt trails and crushed stone trails.

Commissioned by the Pitkin County Open Space and Trails Program (Aspen/Snowmass, Colorado), it is useful nationwide because it was written not for any particular trail but rather for trails yet to be conceived on lands yet to be obtained. As such, and because it is a Pitkin County ordinance by reference, it had to be detailed enough to design and build anything that could arise in future years.


Widely circulated throughout the US and Canada, it is considered one of the most—if not the most—detailed technical spec in existence for concrete, asphalt, and crushed stone trails and associated trail structures such as bridges, boardwalks, retaining walls, dual treadways, and more. Besides being richly detailed and created with an eye for crafting a quality trail experience, it's clearly written in friendly English.
Written in 1994, "Trails Design and Management Handbook" is still in use without ever having needed to be updated. Also contains sections of unique and concise planning guidelines and a checklist based on those guidelines. 228 pages, 8.5x11", over 324 line drawings.